Don't know your username? Here are some tips:
Your User ID is the same as your WebAdvisor User ID with, @com.edu.

Your initial password is your seven-digit COM ID number. If your COM ID number is, for example, 723, you must add four zeros in front of 723 to make it seven digits (0000723).

In WebAdvisor you can click either "I'm New to Webadvisor" or "Account Information" to get your username.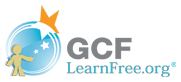 Great free online tutorials and courses from GCF LearnFree.org. Hardware and software basics, using a computer and more.
Gmail

From Google. gmail has fewer frills than hotmail or yahoo, but it's also quicker. Google's IM Talk can be accessed from gmail. Requires free account.

Outlook

From Microsoft. Like gmail and Yahoo! mail, hotmail is integrated with other functions, such as chat and other Windows Live features. Help Central. Requires free account.

Yahoo! Mail

From Yahoo. You can chat or text from your inbox, add RSS feeds, search your email, choose connections view to see the emails from people you know, and more. Requires free account.