LearningExpress Computer Skills Center
With Learning Express Computer Skills Center learn the basics of a computer, from searching the Internet to using popular programs for word processing, creating spreadsheets and databases, implementing design, and more. Go to the How to Use LearningExpress Library Guide.
Covers:
Get Started with Your Computer
Get Started with the Internet
Popular Software Tools

MS Access, MS Excel. MS Outlook. MS PowerPoint, MS Publisher, MS Sharepoint Designer, MS Visio, MS Word Corel WordPerfect

Learn Computer Graphics and Illustration

Adobe Dreamweaver, Adobe Flash, Adobe Illustrator, Adobe Photoshop

Understanding Your Operating System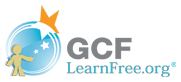 Great free online tutorials and courses from GCF LearnFree.org. Hardware and software basics, using a computer and more.
Access step by step tutorials on or off campus 24/7 on technology such as MS Office, Backboard and much more. Use your WebAdvisor user ID and password to login.