Skip to Main Content
It looks like you're using Internet Explorer 11 or older. This website works best with modern browsers such as the latest versions of Chrome, Firefox, Safari, and Edge. If you continue with this browser, you may see unexpected results.
Get It From the Concise APA Handbook!
How to format your paper APA style, from the The Concise APA Handbook.
Create a Hanging indent for Your Citation
It's easier done than said:
See instructions for your phone or smaller devices
Place your cursor at the beginning of your citation, and highlight it.
Right click your mouse
Select Paragraph from the resulting pop up menu
Under Indentation, use the Special pull-down menu to select hanging
Use the By menu to select 0.5"
For multiple Citations in a References, Works Cited or Bibliography Page
Once you've applied the hanging indent using the technique above, hit enter after your citation.
If you are typing your citation it should keep the same formatting. If you are pasting in your citation, right click when you paste and select the paste as text option (looks like a A on clipboard) and Word will automatically apply all the formatting you've already done, including hanging indent, spacing, font, etc. Alternatively you could wait until all your citations are on your bib, highlight them all at once, then use the 5 steps as listed above.
Create a Hanging indent on your phone
You might not see teh options on your phone. The key is to rotate the screen to landscape mode so you can see the available options (see images below to see the difference). Here are the steps:
Once you have typed in the text you want for your block quote, tap enter/return before the first word of the quote and after the last word of the quote.
Highlight the text that you want to indent.
Rotate your device so that you're viewing it in landscape mode.
Choose the indent option and you're good. If for some reason you can' do that, you'll have to tap the dot options that represent more menu options, bu that will take more steps.
View In Portrait Mode
Automatically Alphabetize Your References
In your Word document, highlight your list. In the ribbon, go to the Paragraph group and select AZ Sort. In the dialog box, under Sort by, Paragraphs and Text, select Ascending to sort alphabetically, A-Z and hit OK. It's that simple!
Formatting Your Paper Tips
These tips can help you format your paper correctly. Your instructor may have specific preferences, so be sure to check..
Margins
Page margins should be set 1 inch on top, bottom, left and right.
Recommended Fonts
A variety of fonts are permitted in APA Style papers. Font options include the following:
sans serif fonts such as 11-point Calibri, 11-point Arial, or 10-point Lucida Sans Unicode
serif fonts such as 12-point Times New Roman, 11-point Georgia, or normal (10-point) Computer Modern (the default font for LaTeX)
~ APA Font
Spacing
Your paper should be double-spaced on standard white paper.
Title page
The first page should include the following, centered and double spaced.
Paper title
Your name
Affiliation
Course name and number
Instructor's name
Date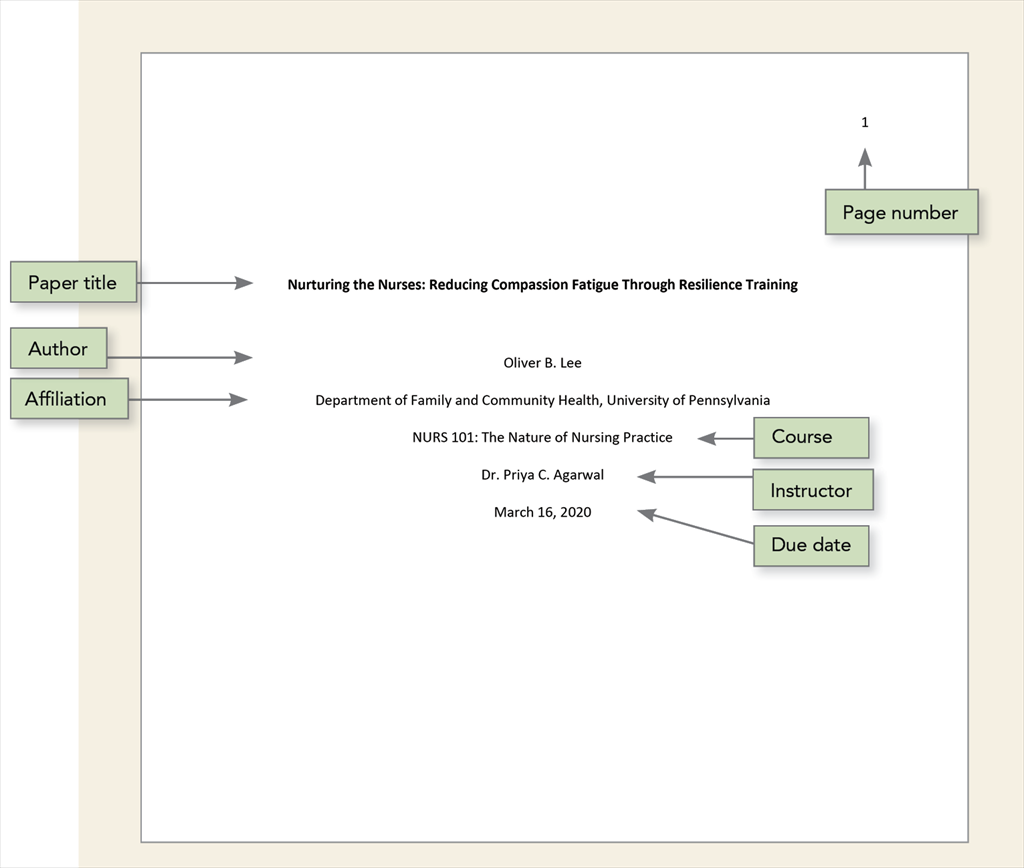 References
A list of all sources cited in the paper must be included at the end of the paper.
The title of this list is "References" and must begin on a separate page after the last page of text. This heading should be centered on the page.
Format citations with a hanging indent, double-spaced and with no extra lines between entries.
Citations should be listed alphabetically by the authors' last name. If there is more than one work by the same author, arrange them in order of publication date, from oldest to most recent.
If no author is given, start with the title of the source. Article titles and book titles capitalize only the first word of the title.